When it comes to elderly care, there are plenty of wonderful ideas that you can use to help keep your mother busy and enjoying life. After all, that's one of the primary objectives when it comes to elder care services. It's not just about providing a level of security, someone to watch over her and make sure that she's safe, but also to help her continue to enjoy life.
There are so many things to do in the fall months, but it's also the time when kids head back to school, soccer games, Halloween festivities, and so much more are going on. When you're running around and trying to keep up with your own life, it can be challenging to remember to include your mother in your plans.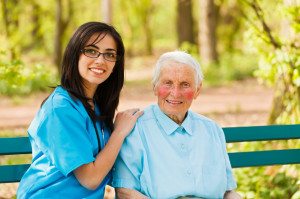 Apple picking is a wonderful family activity that you can do and include your mother in. Yes, there are some aspects of it that she may not be able to participate in, depending on her mobility. However, this shouldn't preclude her from going to the orchard and enjoying a wonderful morning or afternoon out. If you are unable to bring her apple picking with you, then find out if her elderly care provider would be able to bring her.
What about if your mother is in a wheelchair or has a walker?
Apple orchards are all different from one another. Some will provide an opportunity to choose the apples that you want from bins near a building at the parking lot. Others will require that you walk through the orchards and pick your own. Depending on how well your mother can get around will determine whether she can, or should, make her way into the orchard.
A word of caution.
Even if your mother is able to get around well on her own, that doesn't mean you will necessarily want her walking through all of the orchards without any precautions. Even if she doesn't use a cane, have her elderly care provider bring along one as support. When apples fall to the ground, she can be trampled if she doesn't see it right away because the fallen apple can be slick, which could lead to a hard fall and injuries if your mother takes a bad step.
Apple picking is one of the oldest traditions in this country for the fall, and almost everyone has taken part in this tradition at some time in their life. Even if your mother has never gone, it's a great way to get her out and enjoy a fun-filled day. When it comes to elderly care, it's about keeping her busy as well as keeping her safe.
The caregivers at Great Care are available to talk with you and your family about all of your senior care needs. Great Care is an elderly care agency providing quality and affordable senior care in Avon, IN and the surrounding areas. Call (317) 595-9933 for more information.