What does it take to make an elderly care provider? It may seem like an obvious question that would be easy to answer. After all, you need to be caring and compassionate. Experience is important, but everyone has to start from somewhere, right? So if we were to apply the two key characteristics to being an elderly care provider, what would that mean?
Caring and compassionate. Well, that would probably encompass just about everyone that you know to some degree, wouldn't it? When it comes to family members, by reading that, you might just assume that you could be a good caregiver to your father, contrary to what some other people have told you.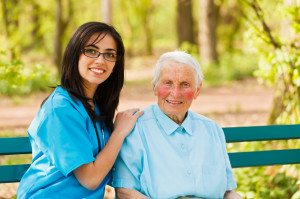 In reality, there's a lot more that goes into being a quality elder care provider, so it's important to understand these dynamics before assuming that you can be one, want to be one, or even before you begin looking for one for your father.
So what makes an elderly care provider? Well, for starters, yes, caring and compassion are two important traits, but these are just traits. They aren't bona fide skills that you could jot down on a resume and tell people, "Hey, look … I'm caring and compassionate, so that's all you need to worry about!" These are just the foundational principles of someone who is a great elderly care professional. Without these two traits, though, it's going to be difficult for that person to maintain quality care for very long. We can all fake enjoying something for a while, and then eventually we'll give up and revert to our reality.
Respectfulness is an important trait of an elder care provider. While the elderly individual who is being taken care of may have trouble walking, getting dressed, bathing, or taking care of other things, this doesn't mean that they deserve to be treated like a child. Maintaining respect and dignity for the elderly individual is tantamount for quality care.
Understanding the importance of medications, appointments, and being organized enough to ensure that the patient takes their medications at the proper time and schedules appointments as needed.
Patience is one of those virtues that becomes crucial for quality elderly care. Without patience, then the caregiver will become frustrated, will tend to rush the elderly patient, and things can escalate from there.
These are some of the important characteristics that make up a quality elderly care professional. It all starts with these and when you have these, you may be willing to earn low wages for long hours and still be the best support system for the patients in your charge.
The caregivers at Great Care are available to talk with you and your family about all of your senior care needs. Great Care is an elderly care agency providing quality and affordable senior care in Broadripple, IN and the surrounding areas. Call (317) 595-9933 for more information.