Keeping home safe should be a primary focus for elderly care providers. Making sure that your aging loved ones have a space that is comfortable and where they can enjoy as much freedom and independence as possible should be balanced with making sure that potential hazards throughout the home are kept out of reach so that aging adults who are coping with cognitive and memory concerns do not inadvertently come into contact with chemicals or other hazardous items that could cause serious harm. When establishing an elderly care plan in your aging loved one's home, it is important to keep in mind some of the hidden dangers that exist around the home so that you can take measures to prevent injuries or accidental poisonings.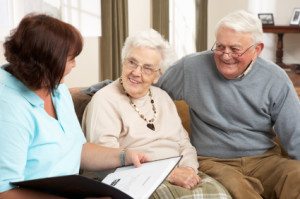 Elderly care providers should carefully examine the home for the following potential dangers:
Cleaning products
Bleach
Laundry detergent and softener
Paint thinner
Lighter fluid
Leaders
Over-the-counter medications
Prescription medications
Solid air freshener crystals that resemble hard candy
Pool chemicals
Battery acid
There are also substances and products around the home that should obviously be controlled as they may present a danger to seniors who access them without proper supervision.
These include:
Alcohol
Guns, gun powder and ammunition
Knives
Razors
Weaponry, even decorative pieces
It is important to make sure that hazardous materials are kept securely out of the reach of your aging loved ones as to prevent them from using these materials inappropriately and potentially harming themselves or other people. Invest in cabinet locks, and if you live in the home with your aging loved one, make sure that the door to your bedroom locks with a key so that any potentially hazardous materials that you have in your space are kept securely away from your aging loved one.
If you have any questions as to what types of materials may be considered hazardous for seniors with cognitive or memory concerns, don't hesitate to contact the elder care services agency in your area. They can provide you with information regarding these potentially hazardous materials as well as suggestions for securing the home for the protection of your aging loved one.
The caregivers at Great Care are available to talk with you and your family about all of your senior care needs. Great Care is an elder care agency providing quality and affordable elderly care in Indianapolis, IN and the surrounding areas. Call (317) 595-9933 for more information.