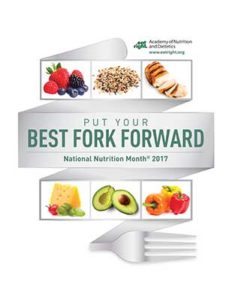 The Academy of Nutrition and Dietetics celebrates National Nutrition Month in March, and Great Care supports making informed food choices and developing sound eating and physical activity habits.
"Evidence shows that making dietary and lifestyle changes can prevent diseases before they occur," says registered dietitian nutritionist and Academy of Nutrition and Dietetics spokesperson Angel Planells.
"During National Nutrition Month and beyond, make small, healthier food choices – one forkful at a time."
According to the Academy of Nutrition and Dietetics, the 2015-2020 Dietary Guidelines for Americans recommend making small changes to eating patterns to include healthier ingredients while cooking at home.
"Choosing a variety of healthful foods across and within all food groups helps reduce the risk of preventable, lifestyle-related chronic diseases including cardiovascular disease, type 2 diabetes and obesity," the Academy suggests.
Planells says it's important to create an eating style that includes a variety of your favorite, healthful foods.
"Consider cultural and personal preferences to make these shifts easier to maintain," she says.
She encourages everyone to eat more of these foods:
• Vegetables, including dark green, red and orange, beans, peas and others
Fruits, especially whole fruits
• Whole grains
• Fat-free or low-fat dairy including milk, yogurt, cheese and fortified soy beverages
• Protein foods including seafood, lean meats, poultry, nuts, soy products, beans and peas
• Oils including canola, corn, olive, peanut, sunflower and soy
Planells suggests finding a personalized plan that works best. Consulting a registered dietitian nutritionist helps, she says. "RDNs can provide sound, easy-to-follow nutrition advice to meet your lifestyle, preferences and health-related needs."
These recipe for a yogurt shake is a great start to making small changes to eating patterns to include healthier ingredients:
Yogurt Breakfast Shake
By Patricia Thompson, MS, RD, and Marlisa Brown, MS, RD, CDE, CDN
Servings: 4 (9 Ounces Per Serving)
This yogurt shake is easy to prepare, and you can drink it on the run.
Ingredients
1 8-ounce plain non-fat yogurt
1 6-ounce low-fat vanilla yogurt
1 1⁄2 cups low-fat milk
1 cup strawberries
1 large banana, cut into 2-inch pieces 2 tablespoons ground flaxseed
2 tablespoons brown sugar
4 ice cubes
Directions
1. In a blender, process all ingredients, except ice cubes, until smooth.
2. Add the ice cubes and blend until the shake is frothy.
3. Add additional sweetener, if desired.
Cooking Tip
Other types of fruit and flavors of yogurt can be used to create your yogurt shake — even add nut butter. Make it your masterpiece based on the ingredients you have available at home.
This recipe is reprinted in its entirety with permission by Kids Eat Right, a joint initiative from the Academy of Nutrition and Dietetics and Academy of Nutrition and Dietetics Foundation. For more information about National Nutrition Month and healthy eating and recipes at http://www.eatrightpro.org.
The professionals at Great Care are available to talk with you and your family about all of your home care needs, including respite care. Great Care is a non medical in-home care agency providing quality and affordable elder care in Fishers, IN and the surrounding areas. Call (888) 240-9101 for more information.