Experiencing the culture and rituals of other people is a fantastic way to broaden your personal horizons and increase your quality of life. This is the same for young people as it is for the elderly, but unfortunately the elderly often have fewer opportunities to engage with people outside of families include social circles. Hiring a home care services companion for your aging loved one has many benefits, but one of the often overlooked benefits is the opportunity for your aging loved one to experience the cultural traditions of other people. One of them a significant ways that this is done is by sharing recipes. Your aging loved one's caregiver will likely prepare several meals per week for your aging loved one. While you have the opportunity to give this caregiver recipes and guidelines as to what your loved one enjoys eating, you may want to consider giving more freedom to the care provider when it comes to what to prepare. The recipes that she uses may be very different from what your senior is accustomed to eating, but this is a fantastic chance for your senior to experience different flavors, different foods, and different traditions that you would otherwise not have the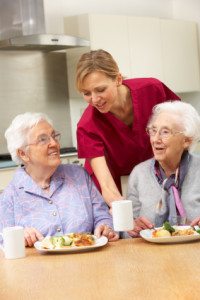 opportunity to experience.
When it comes to home care services companion sharing recipes and culture with your aging loved one, it is important to realize that some of these recipes and cultural traditions may be distinctly different from those of your senior. If there are certain dietary restrictions are cultural elements that are extremely important to your aging loved one, make sure that the care provider understands these so that she does not accidentally offend your senior with opposing concepts. For example, if your senior keeps kosher, make sure that the in home care provider does not prepare recipes containing pork or shellfish. Giving these simple guidelines can help to create a more harmonious relationship while still opening up the lines of communication and encouraging sharing and bonding between the caregiver and your loved one.
Just as the care companion can share her own recipes and cultural traditions with your loved one, your senior can reciprocate by sharing her own recipes and traditions with the care provider. Encourage your loved one to take out recipes from when you were a child, share cooking tips, or simply discuss her own rituals and beliefs with the caregiver as they cook, eat, and enjoy the day together.
The caregivers at Great Care are available to talk with you and your family about all of your senior care needs. Great Care is an elder care agency providing quality and affordable home care services in Fishers, IN and the surrounding areas. Call (317) 595-9933 for more information.