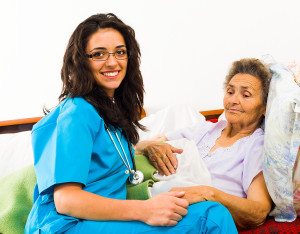 Do you have a family member who recently suffered from a stroke? If so, and your loved one is returning home, he or she is going to require extra home care. The future may seem uncertain. Take the time to organize medical care and look into how to make the transition from the hospital to home a smooth one.
Some people decide to be the primary caregiver for their loved one who had a stroke. The important thing to remember is to be realistic about what your loved one's needs are. It may be necessary to hire home care services.
The first thing to take into account when hiring a home care provider is what type of care is needed. Does your loved one need medical care involving occupational or physical therapy? Maybe you just need someone to help with personal care, such as bathing, dressing, or when using the bathroom. Home care providers can also help with housekeeping tasks or running errands.
Depending upon which part of the brain was injured by the stroke, this will determine how your love one will be affected in their daily activities. The following issues will help determine the level of care your loved one is going to need:
Are they having problems with balance or coordination?
Do they have difficulty remembering or thinking?
Are they experiencing weakness, paralysis, or numbness on one side of the body?
Are there problems with bowel or bladder control?
Are they able to safely prepare meals on their own?
You want your loved one to feel comfortable and independent in their home but you also have to think of their safety as well. There are ways to make areas of the home safer for your loved one to get around.
Stairways
Install handrails on each side of the stairway
Adequate lighting is very important. Use frosted light bulbs or globes over the light fixtures to reduce glare or shadows.
If your loved one uses a walker or wheelchair, you will need ramps for outside. For inside stairways, you may want to consider installing a stair lift or platform lift.
Bathroom
Install grab bars in the shower for help with balancing while showering or bathing.
If your loved one has trouble standing when showering, you can use a folding shower chair.
Use a non-skid bath mat.
You can install a roll-in shower with a fold out bath bench if your loved one uses a walker or is wheelchair bound.
Kitchen
If your loved one has trouble using both hands, buy a cutting board with suction cup feet to help when slicing foods or use a food processor for slicing and dicing.
One handed jar openers and can openers are available in stores or online.
Keep frequently used foods and appliances at a level where they are easy to reach.
The important thing is for your loved one to be safe. Having even a part time home care provider could be the answer to taking some of the extra responsibility and worry off your mind.
The caregivers at Great Care are available to talk with you and your family about all of your senior care needs. Great Care is an elder care agency providing quality and affordable senior care in Indianapolis, IN and the surrounding areas. Call (317) 595-9933 for more information.