Home safety is one of the most serious concerns in senior care. With aging comes a variety of physical, cognitive and mobility challenges that make it difficult for a senior to navigate his home and activities of daily living safely. Seniors experience high frequency of falls and serious medical consequences as a result of these falls, as well as other dangerous situations including burns, cuts and other injuries. If you are concerned that your aging loved one is unsafe in his home, hiring home care services can make an incredible difference not only and how you feel, but in your loved one's quality of life.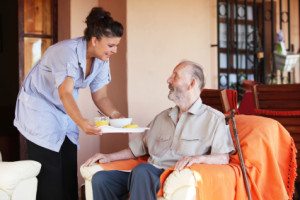 An in home care provider is available to not only monitor the physical and medical condition of your aging loved ones and see to it that they have access to the medical care that they need on a regular basis. Home care services are about protecting the quality of life of seniors and helping them to enjoy the active, healthy and productive lifestyles that they desire, while also ensuring that their daily needs are attended to effectively and efficiently. When it comes to home safety, an in home care provider can evaluate the potential safety risks within the home and make modifications that will create a safer and more secure environment for your aging loved one. She will also be available to help your aging loved one cope with mobility issues, cognitive challenges and other difficulties that can pose risks to his health and physical well-being.
If you have noticed that your aging loved one is having more difficulty moving around, or has experience a high number of injuries recently, it is time to discuss hiring in home health care services. Explain the benefits of a home care services companion not as a way to limit independence, but rather to provide greater freedom in the form of physical safety. Help your loved one to understand that having an in home care provider will help him to fulfill his daily needs, but will also give him greater opportunity to enjoy recreational activities and social involvement because the home care services companion will be there to help him with mobility and other concerns.
The caregivers at Great Care are available to talk with you and your family about all of your senior care needs. Great Care is an elder care agency providing quality and affordable home care services in Zionsville, IN and the surrounding areas. Call (317) 595-9933 for more information.