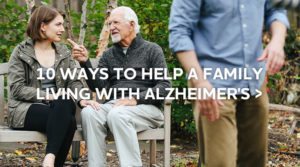 November is National Alzheimer's Disease Awareness Month, a time when Great Care shines the light on the 15 million Alzheimer's and dementia caregivers in the U.S. In support of this most-important cause, the Alzheimer's Association encourages people to "Go Purple with a Purpose," wearing and displaying the organization's signature color. And honor Alzheimer's Disease Awareness and Caregivers Month by promising to Honor a Caregiver.
"During National Alzheimer's Disease Awareness & Family Caregivers Month, which President Ronald Reagan designated November in 1983, we honor the people who serve as care partners and caregivers by providing tips for those looking to support these families living with the disease," says the Alzheimer's Association.
"Whether you are seeking to support a person with Alzheimer's or the person that cares for him or her, you will find helpful ways to lend a hand – in ways both big and small."
On its website at alz.org,  one helpful resource is a list of "10 Ways to Help a Family Living with Alzheimer's." Tips include educating yourself about Alzheimer's disease by learning about its effects and how to respond. Stay in touch with caregivers and family members by sending cards, and calling or visiting.
"That means a lot and shows you care," the Association says.
More importantly, be patient.
"Adjusting to an Alzheimer's diagnosis is an ongoing process and each person reacts differently. Offer a shoulder to lean on," reminds the Alzheimer's Association. "The disease can create stress for the entire family. Simply offering your support and friendship is helpful. Engage the person with dementia in conversation. It's important to involve the person in conversation even when his or her ability to participate becomes more limited."
The Alzheimer's Association also suggests offering to help the family with to-do lists and everyday chores.
"Prepare a meal, run an errand or provide a ride.Engage family members in activities," it says. "Invite them to take a walk or participate in other activities."
Reprieves are important to provide a chance for caregivers to go out alone, maybe to a movie or shopping, or visit with friends for lunch and socializing. This allows family, friends or neighbors the chance to step in and spend time with the person living with dementia.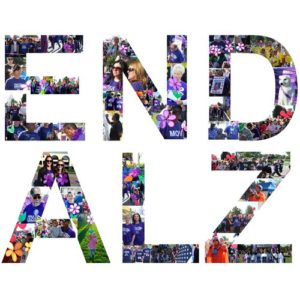 And support the Alzheimer's cause by being flexible and understanding.
"Don't get frustrated if your offer for support is not accepted immediately,"  the Alzheimer's Association says. "The family may need time to assess its needs."
For more ways to honor a caregiver in November, and all the rest of the year, visit alz.org.
The professionals at Great Care are available to talk with you and your family about all of your home care needs, including respite care. Great Care is a non-medical in-home care agency providing quality and affordable elder care in Fishers, IN and the surrounding areas. Call (888) 240-9101 for more information.