Great Care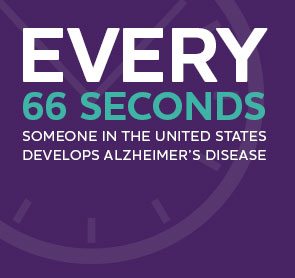 is personally familiar with Alzheimer's disease and the difficult heartbreak it presents to those caregiving for parents and loved ones. And with an early-onset diagnosis, the challenges can present themselves differently.
The Alzheimer's Association defines early-onset Alzheimer's and dementia, also referred to as younger-onset, as Alzheimer's that affects people younger than age 65. Nearly 4 percent of the more than 5 million Americans with Alzheimer's have younger-onset, according to the nonprofit.
"Many people with younger-onset are in their 40s and 50s. They have families, careers or are even caregivers themselves," the Alzheimer's Association says. "In the U.S. alone, it's estimated that more than 200,000 people have younger-onset."
Accurate diagnosis of early-onset Alzheimer's can be frustrating since symptoms may be incorrectly attributed to stress. Or there may be conflicting diagnoses from different healthcare professionals, says the association.
"People who have younger-onset Alzheimer's may be in any stage of dementia – early, middle or late stage. The disease affects each person differently and symptoms will vary."
The Alzheimer's Association suggests having a comprehensive medical evaluation with a doctor who specializes in Alzheimer's disease. A proper diagnosis involves a medical exam and possibly cognitive tests, a neurological exam and/or brain imaging.
"Write down symptoms of memory loss or other cognitive difficulties, says the Alzheimer's Association. "Keep in mind that there is no one test that confirms Alzheimer's disease. A diagnosis is only made after a comprehensive medical evaluation."
Alzheimer's is the only disease among the top 10 causes of death in America that cannot be prevented, cured or even slowed. Genetics can play a role in an early-onset diagnosis.
"Doctors don't know why most cases of early onset Alzheimer's appear at such a young age. But in a few hundred families worldwide, scientists have pinpointed several rare genes that directly cause Alzheimer's," according to the Alzheimer's Association. "People who inherit these rare genes tend to develop symptoms in their 30s, 40s and 50s. When Alzheimer's disease is caused by deterministic genes, it is called 'familial Alzheimer's disease,' and many family members in multiple generations are affected."
A genetic connection can affect those who may have caregiving responsibilities of parents and loved ones with Alzheimer's and dementia over their own. Nearly 60 percent of Alzheimer's and dementia caregivers rate the emotional stress of caregiving as high or very high; about 40 percent suffer from depression, says the AA.
"One in five care contributors cut back on their own doctor visits because of their care responsibilities. And, among caregivers, 74 percent report they are 'somewhat' to 'very' concerned about maintaining their own health since becoming a caregiver."
The Alzheimer's Association works on a global, national and local level to enhance care and support for all those affected by Alzheimer's and related dementias. Local chapters nationwide provide services within each community. Find a chapter near you.
A professionally staffed 24/7 Helpline (1-800-272-3900) offers information and advice to more than 250,000 callers each year and provides translation services in more than 170 languages. The Alzheimer's Association provides caregivers and families with support groups, comprehensive online resources and information through the Alzheimer's and Dementia Caregiver Center, which features sections on early-stage, middle-stage and late-stage caregiving.

The professionals at Great Care are available to talk with you and your family about all of your home care needs, including respite care. Great Care is a non medical in-home care agency providing quality and affordable elder care in Fishers, IN and the surrounding areas. Call (888) 240-9101 for more information.