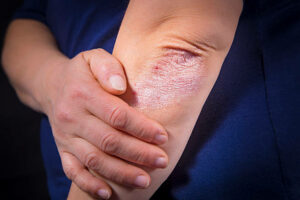 Each summer, the National Psoriasis Foundation (NPF) recognizes Psoriasis Action Month. Great Care in-home care services joins in the health awareness campaign as a time to educate the public and dispel myths associated with the chronic autoimmune disease that appears on the skin.
According to the National Psoriasis Foundation, up to 30 percent of people with psoriasis develop psoriatic arthritis.  Psoriatic disease also creates greater risk of developing cardiovascular disease, depression and other health conditions, also known as "comorbidities."
The National Psoriasis Foundation has played a major role in advocating and spearheading research — which did not start until the early 1970s — into the genetics of psoriasis. Researchers and healthcare professionals are still learning about psoriasis and its causes and triggers.
"Psoriasis triggers are not universal," the Foundation says. "What may cause one person's psoriasis to become active, may not affect another."
The NPF reports that triggers can include stress, which causes psoriasis to flare for the first time or aggravate existing psoriasis. The solution? The Foundation suggests relaxation and stress reduction to prevent stress from impacting psoriasis.
Infection can also be a trigger, according to the NPF.
"Anything that can affect the immune system can affect psoriasis," the Foundation says. "You may experience a flare-up following an earache, bronchitis, tonsillitis or a respiratory infection."
The Foundation mentions that other possible triggers reported by those with psoriasis — though they haven't been scientifically proven — include allergies, diet and weather. Psoriasis can appear in areas of the skin that have been injured or traumatized, referred to as the Koebner [KEB-ner] phenomenon. Some with gluten-related dietary issues have found they have less complications when they cut out gluten.
"Vaccinations, sunburns and scratches can all trigger a Koebner response," the NPF says.
To learn more about psoriasis, take the NPF's 
interactive quiz
to test your knowledge of psoriasis. People can also follow the Foundation on
Instagram
, which features special weekly guests and chances for free merchandise. People can also 
donate
to help fund research that will someday lead to a cure.
The professionals at Great Care are available to talk with you and your family about all of your home care needs, including respite care. Great Care is a non-medical in-home care agency providing quality and affordable elder care in Fishers, IN and the surrounding areas. Call (888) 240-9101
for more information.