When it comes to senior care, you want to make sure that everyone is safe when going out. Going out can mean making a trip to the mall, a doctor's appointment, or simply to the supermarket to pick up some groceries. Even the most innocent activity when heading away from home can pose a number of risks. These risks can involve accidents, slips and falls, and even possibly hitting one's head on a door jam or getting fingers caught in the door.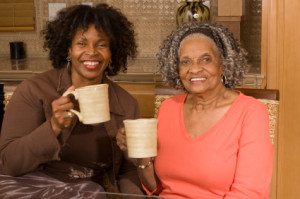 These may seem like innocuous little accidents and something that isn't likely to happen, especially for someone who has managed to live their entire life and take care of other people in the process, but as we age, our body does not work in the same way that it used to. The muscles don't work the same way and that means even the simplest activity, such as getting into a car, can pose a potential risk.
Senior health care services often understand that safety while going out is one of the most important aspects involved in taking the trip down the street. Even going for a walk has the potential to cause any number of injuries.
When it comes to senior care, follow these simple guidelines in order to keep the senior patient safe at all times.
Check the walkway or path for any potential debris. Walking out of the house and going to the car may seem like a simple activity, but if there are sticks, pine cones, or even a number of acorns which are common during the fall season, these can cause a little slip of the foot, which, for senior citizens can lead to a hard fall.
Assist the senior into the vehicle. Whether it's a car that they've owned for 20 years or a van, make sure that you assist them as needed. As the muscles weaken in the legs, they may compensate by dropping into the seat rather than easing into it. Depending on their age and condition of their body, this could lead to dislocations and even broken hips as has happened too many times in the past.
Be aware of your surroundings. If you are in a shopping mall or supermarket, and there are kids running around for example, make sure that the senior individual is balanced and secure either with a walker, shopping cart, or holding onto your arm.
Following this process will help you keep the senior patient safe at all times while going out.
The caregivers at Great Care are available to talk with you and your family about all of your senior care needs. Great Care is an elder care agency providing quality and affordable senior care in Brownsburg, IN and the surrounding areas. Call (317) 595-9933 for more information.