Sun Safety Week is an important week to highlight for those who provide senior care. While it may seem that the thrust of the week is to educate and inform younger people about the dangers of overexposure to the sun, it is actually an extremely important one for seniors to take into account as well as their senior care providers. 1 in 5 Americans will develop skin cancer in their lives and the elderly are especially at risk. Considering they are older, and may have come from a generation before preventing skin cancer was a priority, many do not protect themselves in ways that we know are needed. As they subject themselves to harmful UV rays, it is a provider's job to make sure they take proper precaution to prevent from developing a late, but very possible, case of skin cancer.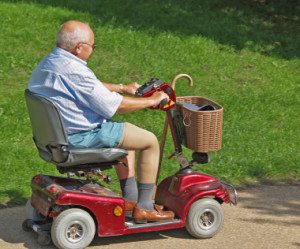 Many elderly like to take as much time outside as possible. From those who can still operate without much help to those who need full time care, older people of all walks of life are spending more and more time outside. As more able-bodied elderly turn to activities like golf and long walks it becomes imperative they understand how to protect themselves with wide brimmed hats or visors, proper sunglasses and adequate sunscreen. Something as seemingly innocuous as playing a round of golf regularly can subject a person to enough unprotected UV ray penetration that skin cancer is a real possibility. For those who depend on someone else to get around, the case might be slightly easier, but still necessary. Make sure to have sunscreen, hats, sunglasses and umbrellas around to keep the sun from beating down on someone who cannot seek shade on their own.
If you are planning on a trip to the ocean or just to go hang out by the pool, make sure you prepare well. Over preparing is better than under preparing and having the right equipment and tools can be the difference between painful sunburns or subjecting one's self or loved one to skin cancer and having a fun day in the water. Senior care providers must make sure to keep plenty of options on them at all times to properly care for the senior and make sure to remember to care for yourself too! Check your local newspapers and magazines to see if there are any events in your area that may be promoting Sun Safety Week. Many times you can find events that provide free sunglasses, hats and other means of protecting yourself and loved ones along with tons of information on how to keep you safe this summer.
The caregivers at Great Care are available to talk with you and your family about all of your senior care needs. Great Care is an elder care agency providing quality and affordable senior care in Carmel, IN and the surrounding areas. Call (317) 595-9933 for more information.