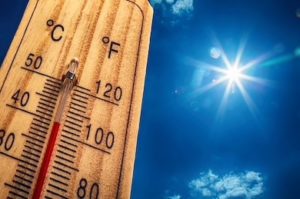 After a long month of rain and severe weather in Indiana, the summer sun is making its hot return. Great Care knows the summer heat can be fun for playing in the pool or getting active on the court, but when it comes to seniors, watching the weather is important.
"When the temperature climbs above 90°F, older adults need to be proactive and take precautions," says the Health in Aging Foundation. "So check the outside temperature on summer days. If it's above 90°, older people should keep in mind the following tips:
Stay out of the sun. If possible, wait to go out until the sun starts to set or until early the next morning. Adjusting when you go outside could mean a difference of several degrees.
Air conditioning is your friend. Spend as much time as possible in air-conditioned spaces. If you don't have an air conditioner, go somewhere that is air-conditioned. Read a book at the library, walk around in indoor malls, watch that new movie at the theater, or meet your friends at the senior center. (Note:  The federal Low-Income Home Energy Assistance Program (LIHEAP) helps adults 65 and older who have limited incomes cover the cost of air conditioners and utility bills. To reach your state's LIHEAP program, call 1-866-674-6327.)
Stay hydrated. Drink plenty of cool water, clear juices, and other liquids that don't contain alcohol or caffeine.  Alcohol and caffeine can dehydrate you (dry you out).
Dress appropriately. Whenever you can, try wearing loose, light-colored clothes (dark-colored clothes absorb heat). Top it off with a lightweight, broad-brimmed hat and you are dressing like a pro! These simple changes will help you both stay cool and avoid sunburn.
Did someone say sunburn? Use broad-spectrum sunscreen with sun protection factor (SPF) of 15 or higher.
Cool down! Take tepid (not too cold or too hot) showers, baths, or sponge baths when you're feeling warm.  Don't have the time?  Then wet washcloths or towels with cool water and put them on your wrists, ankles, armpits, and neck."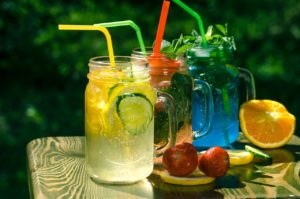 The Health in Aging Foundation stresses the importance of realizing when hot weather is making you sick, and when to get help. For example, dehydration — a loss of water in your body — can be serious if not treated, says the Foundation. Warning signs include weakness, headache, muscle cramps, dizziness, confusion, and passing out. Heat stroke, exhaustion, edema and syncope are also serious conditions hot weather can cause.
"Every summer, nearly 200 Americans die of health problems caused by high heat and humidity. Most of these individuals happen to be age 50 or older," the Foundation says. "Hot weather is more likely to cause health problems for older adults for a variety of reasons. These reasons include aging-related physical changes in the body, chronic health conditions, and even side effects of taking some medications."
The National Institute on Aging reminds us that during hot weather, think about making daily visits to older relatives and neighbors. One summer-related condition, heat syncope — which is a sudden dizziness that can happen when active in hot weather — can be especially harmful to seniors on medication.
"If you take a heart medication called a beta blocker or are not used to hot weather, you are even more likely to feel faint," says the Institute. "Rest in a cool place, put your legs up, and drink water to make the dizzy feeling go away."
The National Institute on Aging says when caregiving, especially, remind seniors to drink plenty of water or juice, — as long as their doctor hasn't recommended otherwise because of a pre-existing condition. Also, to keep heat-related illnesses from becoming a dangerous heat stroke, the NIH suggests seniors:
Get out of the sun and into a cool place—air-conditioning is best.
Drink fluids, but avoid alcohol and caffeine. Water and fruit or vegetable juices are good choices.
Shower, bathe, or sponge off with cool water.
Lie down and rest in a cool place.
Visit your doctor or go to an emergency room if you don't cool down quickly.
For more information on hot weather safety for older adults, please click here.
The professionals at Great Care are available to talk with you and your family about all of your home care needs, including respite care. Great Care is a non-medical in-home care agency providing quality and affordable elder care in Fishers, IN and the surrounding areas. Call (888) 240-9101 for more information.