Home Care in Noblesville, IN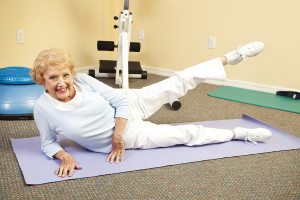 Sometimes our elderly loved ones don't get nearly as much exercise as they should. They don't have to run a marathon, but moving even a little bit during the day can help a lot. Even if your loved one needs a little extra help, such as experienced elderly care providers who can teach her how to move more, she'll benefit from every little bit of movement she does during the day. Always check with your elderly loved one's doctor to make sure that exercise is okay for her.
Take Advantage of Commercial Breaks
Commercial breaks are a terrific time to do all sorts of things. They're especially good for exercise breaks. The time is already limited by the fact that the show will come back on soon, so it's not a long period of movement. Try encouraging your elderly loved one to do simple activities, such as leg lifts or arm curls, either without any weights or with something small, such as a soup can. If your elderly loved one is already more active, there are other things you can suggest, such as a walk around the house before the break ends or even a few yoga poses.
Start the Morning with Stretching
Sometimes morning is a tough time for anyone, but especially elderly loved ones, to get moving. The long night of not moving around a lot leaves muscles a little stiff and sore. If your elderly loved one starts the morning with a few gentle stretches, that can help to get her moving with less pain. Start with a few moves, and your loved one can always add more to her repertoire as she gets used to doing her stretches. This kind of start to the day may also make her feel more like being active during the rest of the day.
Add Some Steps to Everyday Activities
When your elderly loved one goes out to check the mail, or goes out to the garden, encourage her to add a few steps to the activity. Walking up and down the street for a few short minutes, even if it's not that far, adds just a little bit more exercise to her day. Before she knows it, she may be ready to go on longer walks around the block. When the phone rings, that's a good time to stand up and a do a few gentle stretches or even walk around the house. Even if the phone call only lasts a few minutes, that time spent up and walking around can help quite a bit.
Make sure you move with your elderly loved one, since the exercise can do good things for both of you.
Source
http://www.cdc.gov/physicalactivity/growingstronger/index.html
The professionals at Great Care are available to talk with you and your family about all of your home care needs. Great Care is a non medical in-home care agency providing quality and affordable home care in Noblesville, IN and the surrounding areas. Call (317) 595-9933 for more information.