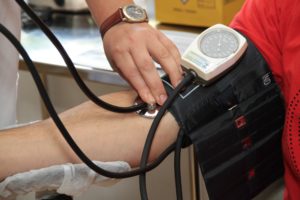 It's a fact that high blood pressure is a common cause of heart disease and stroke. Nearly half of American adults have high numbers. Great Care knows how important it is to check your blood pressure, especially as we age. A quick check at a doctor's office, the pharmacy, or at home could literally save a life.
According to the Centers for Disease Control and Prevention (CDC), high blood pressure increases your risk for heart disease and stroke, two leading causes of death in the U.S.
"No matter your age, you can take steps each day to keep your blood pressure in a healthy range," the CDC says. "You can help prevent high blood pressure by making healthy choices and managing any health conditions you may have."
The CDC offers these prevention; tips for preventing high blood pressure:
The American Heart Association defines high blood pressure (also referred to as HBP, or hypertension) as the condition when your blood pressure — the force of blood flowing through your blood vessels — is consistently too high. It's important to remember 130 is too high for blood pressure. This helpful guide from the American Heart Association is important information to keep handy when measuring your blood pressure, whether at home or the pharmacy, and when consulting a healthcare professional: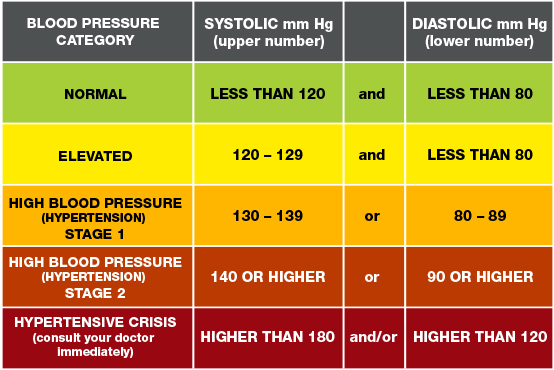 The American Health Association reminds us that for the most part, high blood pressure has no obvious symptoms to indicate something is wrong.
"The best ways to protect yourself are being aware of the risks and making changes that matter," the Association says.
The AHA suggests we be aware that:
Many people with high blood pressure don't even know they have it. Often the signs and symptoms are misunderstood.
High blood pressure develops slowly over time and can be related to many causes.
High blood pressure cannot be cured. But it can be managed effectively through lifestyle changes and, when needed, medication.
"Awareness of your risks can help you identify positive changes that you can make," the American Heart Association says.
For more information on HPB, including registering for the American Heart Association's Support Network for those facing heart disease or stroke or caring for someone who is, click here. The free Support Network is a resource where patients, caregivers, families and healthcare professionals can give and receive encouragement and guidance during challenging times.
The professionals at Great Care are available to talk with you and your family about all of your home care needs, including respite care. Great Care is a non-medical in-home care agency providing quality and affordable elder care in Fishers, IN and the surrounding areas. Call (888) 240-9101
for more information.