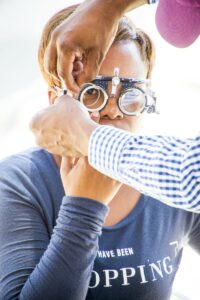 The timeless metaphor that our eyes are the windows to the soul means so much more every August, during National Eye Exam Month. Our eyes play a major role in how we view the world, and how others can learn more about our health and well-being.
As the school year begins each fall, Great Care in-home care services shares the importance of vision health and routine eye exams by observing National Eye Exam Month.
The good thing about eye exams? They're quick — usually just take no more than 30 minutes — and are integral in making sure eyes are performing at optimal levels. Optometrists will be the first to say eyes can change over time. Aging and eye strain, especially with today's increasing screen time, can have major effects on vision health. The correct prescription can make all the difference when driving, taking classes, watching TV, or reading food labels and the newspaper.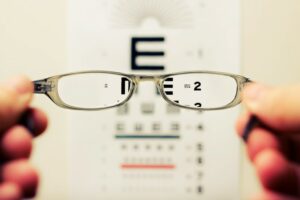 Routine eye exams also help bring attention to eye diseases and conditions such as cataracts, glaucoma, macular degeneration, conjunctivitis, dry eye, retinal detachment, and more. According to the Centers for Disease Control and Prevention (CDC), the leading causes of blindness and low vision in the U.S. are primarily age-related eye diseases. These include age-related macular degeneration, cataract, diabetic retinopathy, and glaucoma. Other common eye disorders include amblyopia, often known as "lazy eye," and strabismus, an imbalance in the positioning of the two eyes, says the CDC.
The good news is, most vision problems worldwide are avoidable or curable. While approximately 12.2 million Americans need vision correction, National Eye Exam Month focuses on how our eye health plays such a important role in daily life. Eyes should be checked routinely, at all ages and stages of life. It's estimated that around half of all children under the age of 12 have never had their eyes checked. Working together with the health industry, we can change that.
The professionals at Great Care are available to talk with you and your family about all of your home care needs, including respite care. Great Care is a non-medical in-home care agency providing quality and affordable elder care in Fishers, IN and the surrounding areas. Call (888) 240-9101 for more information.