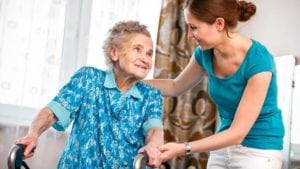 As the need for caregivers increases in today's aging society, Great Care understands the demand for resources to help them cope with this all-important, much-needed role.
According to the National Alliance for Caregiving and AARP, approximately 43.5 million caregivers have provided unpaid care to an adult or child in the last 12 months. Of course that can be taxing, mentally and physically.
"As a caregiver, it's normal to feel isolated, at a loss and unsure of yourself sometimes," say the American Heart Association, who offers Resources for Caregivers on its website at heart.org. "Remember: You're not alone. Others have been down this same path — and many are willing to share their experience and insights with you."
The National Alliance for Caregiving reports that many family caregivers have been caregiving for an average of 5-1/2 years, and expect to continue care for another 5 years. Nearly half of those higher-hour caregivers report high emotional stress (46%).
Every caregiving situation is different — some require much-needed assistance and respite like Great Care's in-home care services provide. There are also many nonprofit health organizations such as the American Heart Association, which offers resources that support caregivers caring for loved ones who have chronic or progressive diseases such as heart disease or those who have experienced a heart attack, heart surgery or a stroke. These tips can also be helpful for caring with those with Alzheimer's, dementia, and more:
Communication tips: As a caregiver, you're called on to communicate with many people. (The loved one in your care chief among them.) Constructive and effective communication is vital. Find helpful tips to communicate with your family and healthcare team.
Emotional upheaval: As a caregiver, you have to be realistic about what can and can't be controlled. You can't control that your loved one has a chronic or progressive disease. You can't control the impact of that disease. But you can control how you respond to the situation.
Emotional support: Connect with other caregivers. Are you putting your own health and happiness on hold? Do you ever feel like you've "lost yourself" in your many caregiver responsibilities? You're not alone. It can be helpful to connect with those who have experienced the ups and downs of caregiving. They have valuable perspectives to share.
The Alzheimer's Association also provides online Care Training Resources to help in taking on the role of a family's hands-on caregiver. The nonprofit offers free trainings and workshops to gain caregiving skills and practical advice, especially in the transition.
"Being a caregiver doesn't come with an instruction manual, but there are resources available to help," says the Alzheimer's Association.
The Resources page also provides the option to search for local training and workshops through the local Alzheimer's Association. They may provide caregiver training classes and workshops. The Health & Support page is also available online for users to browse helpful information and resources for those living with or caring for someone with Alzheimer's or other dementias.
"Whether you provide daily care, participate in decision-making or simply care about someone with the disease, help and support are available," says the Alzheimer's Association. "No one should face Alzheimer's alone."
The National Caregivers Alliance also offers an online resource page at https://www.caregiving.org/resources/general-caregiving.
The professionals at Great Care are available to talk with you and your family about all of your home care needs, including respite care. Great Care is a non-medical in-home care agency providing quality and affordable elder care in Fishers, IN and the surrounding areas. Call (888) 240-9101 for more information.