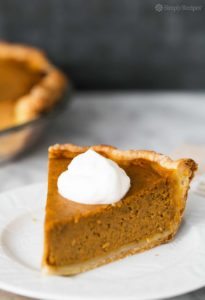 Whether decorated for the holidays or baked in a scrumptious pie, pumpkin is a favorite during fall. Great Care loves that the orange-hued squash is a superfood that's perfect as a key ingredient in healthy fall recipes.
Mashed, raw pumpkin can be used in a variety of healthy recipes, as it is high in fiber and low in calories and carbs.
Pumpkin is an excellent source of provitamin A beta-carotene and Vitamin A, and has a moderate amount of Vitamin C, which always helps to fend off colds. Pumpkin and squash also boost vision, lower blood pressure, help with sleep, and promote heart health.
These recipes from our friends at the American Heart Association and American Diabetes Association make loving pumpkin nice and easy.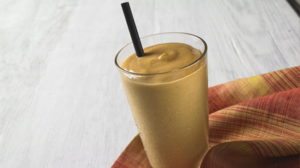 Pumpkin Spice Smoothie

Courtesy American Heart Association
Serves 1 (or two small glasses full)
Ingredients
1/2 cup canned pumpkin, (not pie filling)
1/3 cup fat-free, plain yogurt
1/3 cup skim milk
2 Tbsp. rolled oats
2 tsp. honey
1/2 tsp. pumpkin pie spice
3-4 ice cubes
Directions
1. Into a blender, add pumpkin, yogurt, milk, oats, honey, pumpkin pie spice, and ice cubes.
2. Blend until smooth and frothy, about 1 minute. Pour into a glass and serve.
Additional Tips
Cooking Tip: Keeping the can of pumpkin in the fridge before using isn't necessary, but helps make a colder smoothie.
Keep it Healthy: Make sure to buy 100% pure pumpkin and not pumpkin pie filling or mix, which looks similar but can have added sugar.
Tip: Plain nonfat Greek yogurt, which has more of a tangy taste as well as more protein, can be substituted for the light plain yogurt.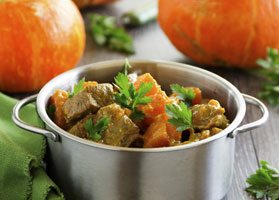 Slow Cooker Pork and Pumpkin Stew
Courtesy American Diabetes Association
Serves 8
Slow cookers allow for a no-fuss meal everyone will enjoy. Serve steamed nonstarchy vegetables or a salad with this stew for a complete meal.
Ingredients
16 oz pork shoulder, trimmed of all visible fat, cut into 1-inch cubes
1/2 tsp ground black pepper
1 tsp salt-free seasoning, such as Mrs. Dash
1 Tbsp olive oil
2 Tbsp tomato paste
1 cup low-sodium beef broth
1/4 tsp cinnamon
1 onion, peeled, large dice
4 celery stalks, large dice
3 carrots, peeled, large dice
1 small sugar/pie pumpkin, peeled, seeded, large dice
4 cloves of garlic, minced
4 sprigs of thyme
1 bay leaf
1 (14.5-oz) can black beans, drained and rinsed
Directions
1. Season the cubed pork with the pepper and salt-free seasoning.
2. Add the oil to a large sauté pan over high heat and brown the pork, cooking for about 8 minutes. If using a small pan, brown the pork in batches to ensure even browning.
3. Remove the meat from the pan and set aside. Add the tomato paste, beef broth, and cinnamon to the pan and whisk to incorporate the brown bits on the bottom of the pan. Remove the pan from the heat.
4. Add the browned meat, liquid, and remaining ingredients to the slow cooker and stir to combine.
5. Cook on high for 3 hours, 40 minutes (or low for 7 hours, 40 minutes).
6. Stir in the beans and cook for 20 minutes more. Remove the bay leaf before serving.
Additional Tips
Chef Tip: Substitute any winter squash or sweet potato for the pumpkin in this recipe.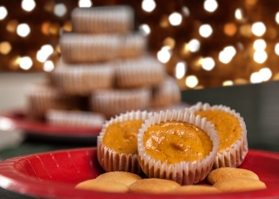 Mini-Pumpkin Tarts

Courtesy American Diabetes Association
No one will ever know this simple dessert is diabetes-friendly.

Ingredients
30 Mini-Nilla wafer cookies
8 ounces light cream cheese, softened
1/4 cup light sour cream
1/4 cup Splenda Sugar blend
1 egg
1/2 teaspoon vanilla
3/4 cup canned pure pumpkin
1/2 teaspoon cinnamon
Pinch nutmeg
Directions
1. Preheat oven to 350 degrees.
2. Line mini-muffin pan with paper baking cups and place one Nilla wafer in the bottom of each cup.
3. In medium bowl, add remaining ingredients and mix with an electric mixture until smooth.
4. Fill each muffin cup with pumpkin-cream cheese mixture.
5. Place muffin pan in oven and bake for 30 minutes or until done.
6. Serve cool.
Additional Tips
MAKE IT GLUTEN-FREE: If you need this recipe to be gluten-free, use gluten-free animal crackers (break them to fit into muffin tin) in place of Nilla wafers. Confirm all other ingredients are gluten-free and this recipe can be made gluten-free.
The professionals at Great Care are available to talk with you and your family about all of your home care needs, including respite care. Great Care is a non medical in-home care agency providing quality and affordable elder care in Fishers, IN and the surrounding areas. Call (888) 240-9101 for more information.