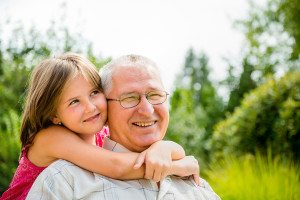 Easter dinner brings Great Care family members of all ages together to celebrate each spring. Many guests have special diets, and sometimes it can be a challenge to find Easter cuisine that tastes as good as it looks. We've found a sampling of dishes to make everyone happy at lunch, brunch and dinner time this Easter.

Roasted Beet and Citrus Salad
Makes 4 servings
Courtesy American Heart Association
The American Heart Association recommends an overall healthy eating pattern that emphasizes fruits and vegetables first. Spring is a great time to try healthier recipes like this one for beet and citrus salad.
"This magnificent magenta salad is filled with the tartness of ruby red grapefruit and the earthiness of beets," says the American Heart Association. "It isn't just gorgeous to look at, but also tasty to eat."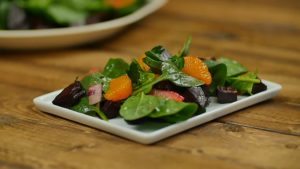 Ingredients
3 medium beets, peeled and diced into 1-inch chunks (4 cups)
2 Tbsp canola oil (divided)
2 cups packed spinach leaves
2 cups canned ruby red grapefruit segments in water or own juice, drained
1 (15-ounce) can mandarin orange segments (in water, drained)
1 tablespoon chopped red onion
2 Tbsp chopped parsley
2 Tbsp red wine vinegar
1/8 teaspoon salt
Instructions
1. Preheat oven to 400 degrees F. Prepare a baking sheet by lining it with foil and coating foil with cooking spray.
2. Use a peeler to remove the peel from each beet. Trim and discard the ends of each beet. Dice each beet into 1-inch chunks. Transfer beets to the prepared baking sheet and drizzle with 1 tablespoon oil.
3. Roast until softened (tender when a knife goes through it), about 45 to 55 minutes.
4. When ready to serve salad, place spinach on the bottom of a serving bowl or platter. Top with drained grapefruit segments and orange segments, along with chopped red onion and chopped parsley.
5. In a small bowl, whisk together 1 tablespoon oil, vinegar, and salt. Pour over the salad and gently toss with tongs.
6. Spoon cooked beets onto the top of the salad. Serve.
Quick Tips
• Cooking Tip: Did you know beets can also be cooked in the slow cooker? Simply wrap each beet in foil and place as many as will fit in 1 layer into the slow cooker bowl (about 4 to 5 medium beets in a large slow cooker). Cover with lid and cook on high heat until tender, about 4 to 5 hours. From there, peel and trim each beet; then, simply turn into 4 cups chopped beets to use for the salad.
• Keep it Healthy: If not in the canned aisle, grapefruit segments can sometimes be found in plastic cups in the produce section. Drained of the juice, they can be a great portable fruit option for a work lunch or kid snack.
• Tip: If possible, use a pair of disposable kitchen gloves when peeling and chopped raw beets; otherwise, pink-hued hands will be in your future.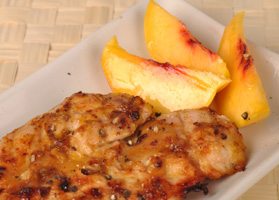 Apricot Glazed Chicken
Makes 4 servings
Courtesy American Diabetes Association
The American Diabetes Association offers a new way to enjoy fresh apricots for dinner this spring. The nonprofit organization suggests serving this chicken with a whole grain of your choice and an arugula side salad for a complete seasonal meal. Feature it in your Easter menu to cut down on fat and calories.
Ingredients
2 tsp olive oil
4 fresh apricots, pitted and cut into quarters
1/2 cup sugar-free apricot preserves
1/4 cup balsamic vinegar
1/4 tsp ground black pepper
Nonstick cooking spray
4 (4-oz) boneless, skinless chicken breasts
Instructions
1. Preheat oven to 350°F. In a large skillet, heat 2 tsp oil over medium heat. Add the apricots, cut side down, and cook until lightly browned, about 3 minutes. Turn the apricots and cook for 1 minute longer. Set aside.
2. In a small saucepan add the apricot preserves, balsamic vinegar and pepper and bring to a low boil; simmer 3 minutes or until mixture has a glaze-like consistency. Add apricots to the mixture.
3. Coat a baking dish with cooking spray. Place chicken breasts in dish and bake 30 minute. Pour remaining glaze over chicken.
Make It Gluten-Free
Confirm apricot preserves are gluten-free and this recipe can be made gluten-free.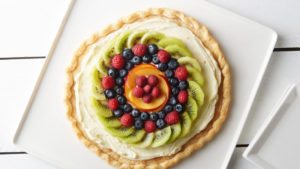 Easy Fresh Fruit Dessert Pizza
Makes 10 servings
Courtesy Pillsbury.com
Pillsbury makes it easy to create a fresh fruit dessert using its pre-made pie crust and a tangy cream cheese filling. No pie pan needed!
Ingredients
1 box Pillsbury™ refrigerated pie crusts, softened as directed on box
1 package (8 oz) cream cheese, softened
2 tablespoons milk
1/4 cup powdered sugar
1/2 teaspoon grated orange peel
2 to 3 cups assorted cut-up fresh fruit
Instructions
1. Heat oven to 450°F. Remove crust from pouch; unroll on ungreased cookie sheet. Flute edge, if desired. Generously prick crust with fork. Bake 9 to 11 minutes or until lightly browned. Cool completely, about 30 minutes.
2. In small bowl, beat cream cheese, milk, powdered sugar and orange peel with electric mixer on medium speed until smooth. Place cooled baked crust on serving plate; spread with cream cheese mixture to within 1/2 inch of edge. Arrange fruit on cream cheese mixture. Store in refrigerator.

The professionals at Great Care are available to talk with you and your family about all of your home care needs, including respite care. Great Care is a non medical in-home care agency providing quality and affordable elder care in Fishers, IN and the surrounding areas. Call (888) 240-9101 for more information.