---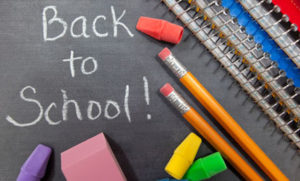 Great Care Home Health knows the importance of teaching kids at a young age to eat healthy. And with students already heading back to class, there's no better time than now to treat the kids and grandkids to healthy snacks after school.
Trail Mix 2.0
You're never too young to practice heart-healthy lifestyles — such as avoiding fast food, drinking plenty of water and getting exercise — so this quick-and-easy recipe from the American Heart Association for Take–a–Break Snack Mix will be a big hit with all ages as school gets out for the day. Give it a try!
Ingredients
non-stick Cooking spray
1/4 cup sliced, unsalted, unoiled almonds
1 Tbsp. light brown sugar
2 tsp. water
1/4 tsp. ground cinnamon
1/8 tsp. ground nutmeg
2 cup whole-grain oat cereal with yogurt-flavored coating
2 cup whole-grain wheat and bran flakes with raisins
1/2 cup unsweetened, dried cranberries
1/2 cup unsweetened, dried blueberries
Directions
Put a piece of aluminum foil about 12 inches square on a platter or baking sheet. Lightly spray with cooking spray. Set aside.

n a small nonstick skillet, dry-roast the almonds over medium heat for 2 to 3 minutes, or until lightly golden brown, stirring occasionally.

Stir in the brown sugar, water, cinnamon, and nutmeg. Cook for 1 to 2 minutes, or until the liquid has evaporated and the almonds are coated with the mixture, stirring constantly. Transfer to the foil. Let cool completely, 15 to 20 minutes.

Meanwhile, in a medium bowl, stir together the remaining ingredients.

Add the cooled almonds to the cereal mixture, stirring to combine. Store in an airtight container for up to 7 days.
Quick Tips
Tip: 1/2 cups per serving
Tip: For variety, substitute different nutrient-dense dried fruits, such as cherries, apricots, and plums, for the cranberries and blueberries. Cut them into 1/4- to 1/2-inch pieces before adding them to the cereal mixture.
PB& J With a Twist!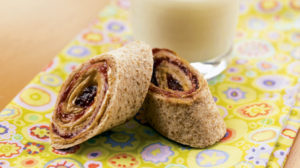 Of course PB&J is a back-to-school favorite, but for a delicious snack, the American Heart Association puts a healthy spin on this traditional combo to feed any hefty after-school appetite.
Ingredients
1 whole-wheat flour, low-carb, tortilla (7-1/2" diameter)
1 1/2 Tbsp. reduced-fat peanut butter
1 Tbsp. 100% strawberry all-fruit spread (or your favorite flavor)
Directions
Set a medium nonstick skillet over medium heat for about 1 minute, or until hot. Place the tortilla in the skillet. Cook for 20 to 30 seconds per side, or until just warm.

Place the tortilla on a cutting board. Spread the surface evenly with the peanut butter followed by the fruit spread. Roll into a tube. Slice into 8 equal pieces. Arrange on a serving plate, spiral side up. Serve immediately.
Snack Up on These 8 Easy Ideas
The American Diabetes Association
knows the importance of healthy snacking as part of a well-balanced diet. Especially when the snacks aren't sugar-coated, literally. These "8 Quick Snack Ideas – Lean Protein Included!" adopted 
from
Recipes for Healthy Living
, the American Diabetes Association's resource for recipes, meal plans, and other healthy eating tips, are a great source of 
lean protein snacks.
The ADA shares these quick-and-healthy snack ideas on its diabetes.org website:
1.
For a quick chicken salad, shred leftover chicken and add some light mayo and/or non-fat Greek yogurt, some lemon juice, and lemon pepper. Then mix in some slivered almonds and celery for a chicken salad that you can eat with whole-wheat crackers or make ½ a sandwich with whole wheat bread.
2.
Pack 1/3 cup of fat-free pinto beans or fat-free black beans mixed with some salsa. Spread on a small corn tortilla or eat with baked tortilla chips.
3.
Keep a tuna snack pack or keep canned tuna on hand. (Canned in water is best.) Mix it up with some light mayo and freshly ground pepper.
4.
Buy any hummus or bean dip premade at the store. Have a serving with non-starchy vegetables – baby carrots, cherry tomatoes, pre-cut celery sticks, cucumber, zucchini, mushrooms, broccoli, or cauliflower.
5.
Pack yourself some soynuts (about 1 ounce or ¼ cup) and a small piece of fresh fruit like a peach, apple, or pear.
6.
Keep unshelled edamame in your freezer. Heat some up in the microwave (it only takes a minute or two!) when you want a small snack.
7.
Buy individual servings of light yogurt when they are on sale at the store. Mix yogurt with ½ cup of fresh or frozen berries.
8.
Spread 2 tablespoons of almond butter on half of a whole wheat English muffin. Toast it if you have time!
Great Care encourages everyone to snack healthy. Visit the American Diabetes Association's Recipes for Healthy Living for more ideas, meal plans, and recipes. Happy back-to-school to all!
The professionals at Great Care are available to talk with you and your family about all of your home care needs, including respite care. Great Care is a non-medical in-home care agency providing quality and affordable elder care in Fishers, IN and the surrounding areas. Call (888) 240-9101 for more information.